"Fake it till you make it."
This was the saying that kept coming to my head one day after an interaction with a muscly and handsome stranger during my daily jog. During a small break from our work out, he and I (unintentionally!) met at my favorite "cool -off" spot to take a breather. While small talking, he asked, "What do you do?"
"I'm a consultant. I own my own business," I answered confidently.
Impressed, he asked me more about what I do.  As I explained, my old friend fear and my familiar friend doubt inserted themselves into my mind. The responses I gave to my "friends" and their opinions are what led me to write this note to you.
You see, in this fast paced world we live in, we are encouraged to pursue a "group think" idea of success at all costs: including following our lusts in order to keep up with the 'Joneses.' After only one month of starting my business, I began to sink into a state of discouragement after discovering how hard owning a business can be without the proper resources, credit and capital. Even after finding someone willing to take a chance on me for a small business loan, I went back into the discouraged state whenever I was asked for evidence showcasing what I do.
"You build and design websites, but who have done this for?" 
"You offer freelance writing services, but who have you written for?"
Questions like these really spoke to my insecurities as a new entrepreneur, and worked to hinder me more than anything. However, my ambition and belief in myself is what helped me move forward. With this in mind, I want to share some things with you that I hope will encourage you as a new entrepreneur:
1. FIND CONFIDENCE THROUGH BELIEVING IN YOURSELF
Ugh. I cannot STAND cliches. Like seriously, I literally roll my eyes whenever I hear someone use one these days; to me, it signifies a person's inability to think critically. Therefore, I made sure to put some meat behind this one: Believe in yourself. You see, prior to my conversation with Handsome Muscly Stranger, I had an aha! moment in the shower. Anytime someone would ask me about my professional status, I would mention that fact that I was business owner, but I would always throw in a, "but I just started my business last month so..."
After some thought, I realized that this was due to a lack of confidence. Not because I'm not good at what I do, but because I feared not being taken seriously since I am not yet established with a flourishing clientele.
"However," I told myself as I lathered, "This does not diminish my ability to provide a client with quality service. You got this, B." 
And indeed, when I look back, I have always offered my writing skills to people and received nothing but positive feedback: In high school, I wrote 1-2 pages essays for my friends at $5 bucks a pop, and every person I ever wrote for received an A, a couple even admitted it was their first time receiving an A on a writing assignment. In college, I was always sought out for my peer reviews. As an adult, single motherhood as well as poverty has helped me become skilled at working multiple strategies within a small budget to achieve a desired goal. I first started blogging back in 2012, and was introduced to the world of website building and coding (still learning!). As a friend and sister, my advice on professional and everyday life struggles are sought out by those around me, and I know that people trust me to give an honest well-thought out opinion, even when they can pretty much guess what I am going to say before I say it! None of this is an attempt to play myself up to you, Dear Reader, but to help you understand the process I went through to build that confidence within myself.
If you are struggling with feelings of inadequacy or doubt as a new entrepreneur, please know that you are not alone, and that there is a cure! Make a list, mental or physical, reminding yourself about the core reason you decided to go into business anyway. Yeah, you get the perk of being your own boss, but what made you come up with the idea to start your own business? Did you find a secret stash of your grandmother's recipes and discovered that you have the ability to produce a dish that more than satisfies the palette? Did you begin your interior design business because you sincerely get lost in the details of arranging a room in accordance with the latest trends? Matching color palettes and a person's unique taste? If it was just about making money, you could have chosen any number of generic things to do, but you didn't. So why did you choose to offer one service or product over another? Determine the reason and hold onto to that, because you will have to go back to it often in the beginning of your venture as a small business owner. Often times, there will not be a group, or even a single person encouraging you to move forward in your dream. Don't allow that to demoralize your efforts. In today's world, many are willing to rally behind you only after they perceive you to be successful or popular. Few are actually with you in the climb. Reminding yourself that you have the talent and skills to deliver will work as an encouraging truth to your soul as you work towards seeing this truth manifest into profit.
2. THE BEST WAY TO DO SOMETHING IS THE BEST WAY THAT WORKS FOR YOU
When it comes to entrepreneurship, I believe there is no one, best, right way. Of course, you want to be educated on the best practices and latest trends for your industry. However, if the way you deliver a service or present a product to your market of customers works for them, then focus on perfecting yourself at that level of service until you level up. The good thing about life is everyday you wake up is another day you get to perfect your craft! Trying to meet some standard you see others holding themselves to for their business and their customers can hinder your productivity because it will invoke feelings of discontent and inadequacy; you will keep trying to reach for a standard that may not work well with what you have to offer. So focus on finding that place of effectiveness that works well for your customer base. When it comes to running your business, the best way to do something is based around what works best for you.
3. FAILURE IS INEVITABLE
Like, for real, for real.
I'm really preaching to the choir on this one, because I have this weird disorder known as "perfectionism," ever heard of it?? Well, putting in the effort to reach a goal and failing to do so makes this disorder act up within me in such a way as to discourage me greatly, which usually results in me becoming unproductive. As a Black American coming from where I come from, I have hardly had opportunities to try and fail. This has produced within me this complex of feeling like one failure means it's all over: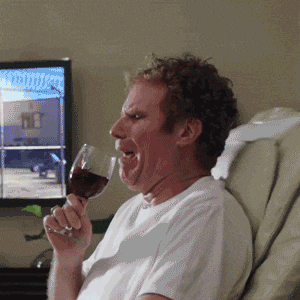 Once I realized that failure is a very necessary part of success, I began to embrace my efforts as learning lessons. Now, I internalize fails as first-hand knowledge when strategizing a new way to do things. Are you looking for the lessons in your fails? If not, you are missing out on a free and valuable opportunity to consult with something outside of yourself on how you can do better next time.
I hope these three points have helped you. Read this twice. Check back every once and awhile when you need a reminder to trust the process.
Please reload